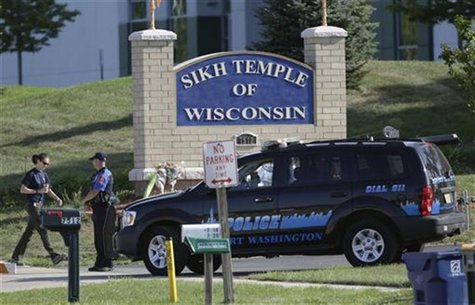 OAK CREEK, Wisc (WSAU) India's foreign minister says his entire nation shares the grief of Wisconsin's Sikh Temple members. S-M Krishna and two other dignitaries from India spoke yesterday to about 150 Sikhs at their temple in Oak Creek. That's where gunman Wade Michael Page killed six people and wounded four others before killing himself in a rampage two months ago today. The Sikhs have 27 million members, most of whom live in India.
Krishna told the Wisconsin Sikhs quote, "I convey the sympathy of a billion people … I come here not only to offer prayers at this sacred temple, but to express our deepest condolences." The Sikh community is still grappling with the after-effects of the tragedy – and Krishna said it was even more tragic that it happened in a place of worship and peace.
Krishna, Ambassador Nirupama Rao, and consul general Dutta Toma also visited a hospital where Punjab Singh is still being treated. He's the only survivor still hospitalized, and he remains in serious condition. The F-B-I says it continues to investigate the shootings.