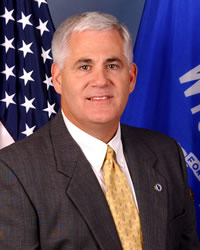 MADISON, WI (WTAQ) - A top official in the state Justice Department will become the new head of Wisconsin's prison system.
Governor Scott Walker appointed Ed Wall Friday as the new Corrections' Department secretary.
Wall is currently the head of the Justice Department's criminal investigation division. He's scheduled to become the new corrections' leader on October 27th – and he replaces Gary Hamblin, who announced his retirement last month.
Wall was a state trooper in New Hampshire before moving to the Badger State 13 years ago.
Wall has been a drug agent with the Justice agency – and he ran its Investigative Services Bureau. He was also the head of Wisconsin Emergency Management under former Governor Jim Doyle.