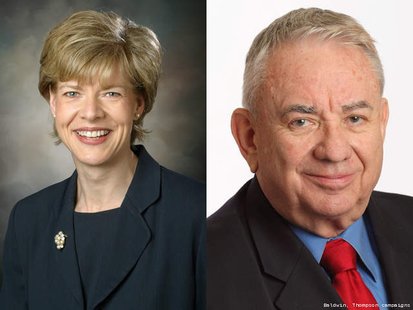 MILWAUKEE (WTAQ) - With 33 days until the election, Marquette pollster Charles Franklin says it's still possible that Wisconsin's U.S. Senate race could see another major shift.
Republican Tommy Thompson lost a nine-point lead in September, as his Democratic opponent Tammy Baldwin jumped to her own 9 point advantage in the Marquette poll.
A new survey released Wednesday shows that the race has narrowed – and Baldwin still leads 48 to 44 percent.
Thompson, the former governor, had to focus on fundraising last month after winning a hard-fought August primary – and Baldwin took advantage of Thompson's public absence by running a series of attack ads.
Franklin says the so-called "ad wars" are playing a big role in the Senate contest. Thompson gained some ground after he and several outside groups put out recent attack ads against Baldwin.
The Americans for Prosperity started a million-dollar ad campaign for Thompson Wednesday. And the National Senatorial Republican Committee also started running anti-Baldwin ads.
Among other things, the new Marquette poll shows a gender gap. Women favored Baldwin 54 to 38 percent, while men endorsed Thompson 50-41.