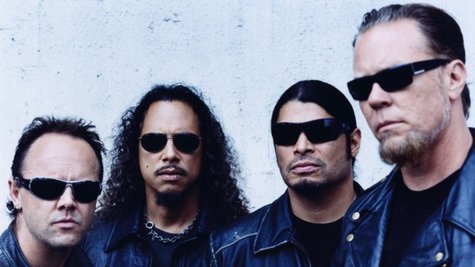 Good news for Metallica fans: guitarist Kirk Hammett says the band will soon begin work on their tenth studio album. Hammett says that the new album is next thing on the band's agenda after they complete work on their 3D movie project.
"Right now, we're kind of preoccupied with dealing with this 3D movie that we shot up in Canada last month," Hammett tells Rolling Stone . "But once we're done with that, we're going to start hunkering down and putting riffs together. That's all going to happen soon."
Hammett added that the band hasn't yet decided on a producer for album #10, but they're considering working with Rick Rubin , who produced their last album, 2008's Death Magnetic . "I really don't have an answer about Rick Rubin, although his name certainly comes up," notes the guitarist.
In other Hammett news, he's celebrating the publication of his recently-released horror movie memorabilia book, Too Much Horror Business, by making appearances in several U.S. cities this month to sign copies of the book for fans. The tour kicks off in New York City on October 11, and will make stops in Los Angeles, Burbank and San Francisco. Visit the book's Facebook page to see the full itinerary.
Copyright 2012 ABC News Radio