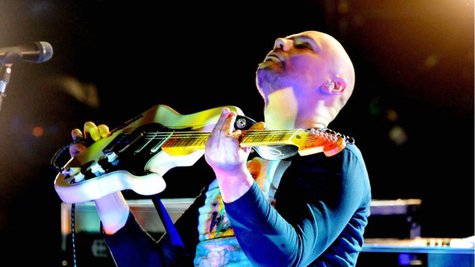 Grey's Anatomy actor Eric Dane and his wife have filed a lawsuit against neighbor and Smashing Pumpkins frontman Billy Corgan . The complaint alleges that Dane and his wife, actress Rebecca Gayheart , were put at risk when a tree on Corgan's property fell into the couple's home.
According to TMZ.com , the lawsuit states that a eucalyptus tree fell during a storm last year, crashing into Dane and Gayheart's Beverly Hills home and taking down a power line in the process.
Dane says he and his then-nine-months-pregnant wife had to flee their home, which was flooded and exposed to live electrical wires.
The lawsuit seeks unspecified damages.
Corgan denies a claim in the lawsuit that he'd been previously warned that the tree was dangerous.
The rocker tells TMZ, "I was horrified when I learned about the tree falling during what was a massive storm, a storm with winds strong enough to uproot a 50-foot tree by its base! Thankfully no one was injured."
Corgan says he had similar trees removed from his property after the accident.
Copyright 2012 ABC News Radio