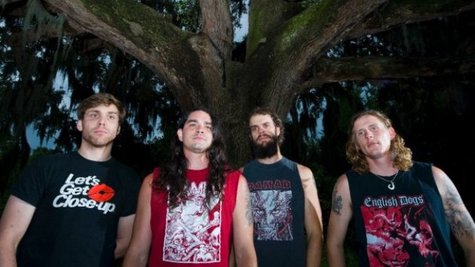 On August 15, Baroness ' tour bus fell 30 feet from a viaduct outside of Bath, England, injuring the four band members and their five crew members, some seriously. Now, frontman John Baizley has posted an open letter to their fans on the band's website to give his account of what happened the night of the crash.
"When the bus hit the ground, I flew like a missile into the windshield," writes the singer. "My left leg was very obviously and badly broken. My left arm was crushed beyond belief, broken in the middle…and hanging 90 degrees backwards, with many spurs of bone poking through muscles and sinew at the surface of my skin. There was blood, glass and diesel fuel everywhere."
Baizley added that once he was hospitalized, he underwent an eight-hour surgery to rebuild his arm "with the aid of 2 massive titanium plates, 20 screws and a foot-and-a-half of wire," which required almost 50 staples.
The singer goes on to assure fans that the band will get back on the road just as soon as they're finished healing from their injuries. "We cannot allow this accident...to slow down or stifle what has become so much more than a passionate hobby for the four of us," wrote Baizley. "We have only begun to accomplish what we set out to do through this band. We will be back on tour as soon as we possibly can."
You can read Baizley's full letter at BaronessMusic.com.
Copyright 2012 ABC News Radio