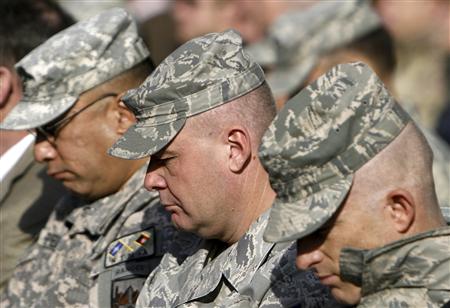 UNDATED (WSAU) The latest Wisconsin troops heading to Afghanistan will learn how to prevent being killed by the people they try to help. 16 members of a newly-formed National Guard Advise-and-Assist team had a send-off ceremony in Madison yesterday before they embarked on a year-long mission. They'll spend nine months as mentors to the Afghan Border Police, helping local officers take over their country's security before the U-S pulls out of Afghanistan in 2014.
Before they get there, the Wisconsin officers will get three months of training on avoiding "insider attacks" – being shot by the officers they're training. The commander of the new Guard team, Lieutenant Colonel David Larson, said it's a big concern – and his troops have talked a lot about it.
Afghan soldiers and police units have shot 50 foreign troops to death this year, about half being Americans. Some top military leaders went to Afghanistan this summer to express their concerns, after 10 U-S soldiers were killed by Afghan troops in a span of two weeks. Now armed troops from the U-S coalition provide security to their fellow soldiers at all times – and NATO officers must keep loaded magazines in their weapons, even when they're on their home bases.
The adjutant general of the Wisconsin guard, Donald Dunbar, said the troops need to strike a balance between being vigilant while engaging with the Afghan officers.