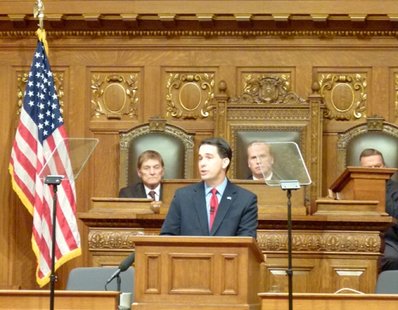 MILWAUKEE (WSAU) Governor Scott Walker has been named as a potential witness in a second possible trial against his former aides when he was the Milwaukee County Executive. Prosecutors included Walker on a list of 42 possible witnesses in Tim Russell's trial. Russell is accused of embezzling just over $21,000 from an annual event put on by Milwaukee County that salutes Wisconsin's veterans. He's also accused of taking money from two county supervisor campaigns he helped manage.
Republican campaign consultant Mark Block is also on the potential witness list for Russell's trial. Records showed that Russell went to Atlanta in late 2010 for a meeting on Republican Herman Cain's former White House candidacy. Block headed Cain's campaign at the time.
Russell's trial is scheduled to begin December 3rd.
Prosecutors have also listed the governor as a possible witness in the trial of ex-Walker aide Kelly Rindfleisch. She's accused of doing campaign work for Republicans during her work hours as Walker's deputy chief-of-staff. Rindfleisch is scheduled to go on trial October 15th on four felony counts of misconduct in public office. Both cases stemmed from a two-year John Doe investigation of Walker's former Milwaukee County aides. Walker has long denied any wrongdoing on his own part.