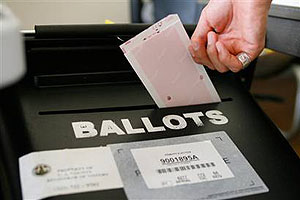 MADISON, WI (WTAQ) - Fifty-eight Wisconsin communities were late in sending out their November election ballots to their overseas residents and military personnel.
Reid Magney of the state Government Accountability Board said the delays were relatively short. All overseas should still be able to get their ballots back to their local clerks by the deadline of November 9th. That's three days after Election Day.
State law requires that overseas ballots be sent at least 47 days before Election Day – and federal law requires a 45-day advance period.
Magney said 28 communities missed the 47-day deadline, and 30 others missed the 45-day period. Actually, Magney said local clerks were a lot more successful in following the overseas ballot laws than in the past.
The final ballot was sent Monday.
They were supposed to go out by September 28th.