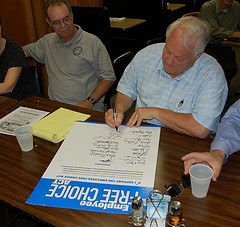 MADISON, WI (WTAQ) - A conservative group has suspended its effort to recall state Senate Democrat Bob Jauch in northwest Wisconsin.
The Citizens for Responsible Government has been trying to gather petition signatures to force a recall election against Jauch -- because he voted against a compromise bill that could have paved the way for a large new iron ore mine near Hurley.
The CRG's Orville Seymer says his volunteers are being spread thin, because people are more concerned right now with the June 5th recall votes against Governor Scott Walker and five other officials.
Organizers have until next Friday to file 15,720 valid petition signatures for a recall vote against Jauch, who's been in the Legislature for about 30 years. Seymer says the recall effort could resume in the summer.
The CRG also formed an exploratory committee in March to consider a recall effort against Senate Republican Dale Schultz of Richland Center, who also voted against the mining compromise. Apparently, nothing has come from that recall effort.