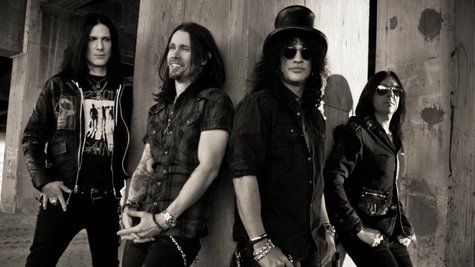 Later this month, Slash will release his second solo album, Apocalyptic Love , featuring Myles Kennedy and the Conspirators . In an interview with the Orlando Sentinel , the ex- Guns N' Roses guitarist says that making the album with his new band was a "non-confrontational, non-dramatic" experience.
"I've never been in a situation like that where there's no reason to have an issue about anything," explains Slash. "I haven't had this much fun in a band situation since Guns started." The guitarist added that he's glad that his new band is free of "self-centered" divas and the drama that they bring. Slash, of course, has played with two bands that have had their fair share of drama -- GN'R and Velvet Revolver -- especially in the frontman category.
"It's different when you're dealing with people who aren't looking to cause problems," explains Slash. "Rock and roll tends to breed a lot of idiosyncratic stuff, but I've been around to the point now that I don't have time for that."
Slash noted that collaborating with Kennedy was easy because they are "both workaholics" and can hammer out tracks while out on the road. "We'd be working six nights a week, then get back to the hotel in middle of the night," says Slash. "I'd have ideas and MP3 them to Myles. There he'd be, sitting at his computer working."
Apocalyptic Love will arrive in stores on May 22.
Copyright 2012 ABC News Radio