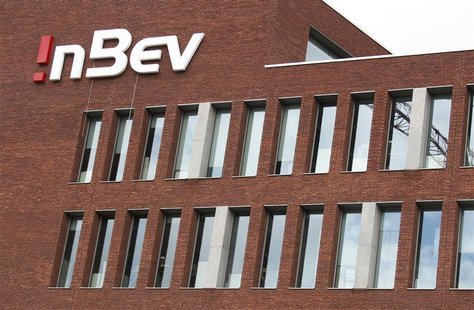 By Philip Blenkinsop
BRUSSELS (Reuters) - Anheuser-Busch InBev, the world's biggest brewer, agreed to buy the half of Corona-maker Grupo Modelo it does not already own for $20.1 billion, a big, but necessary price tag to expand in Mexico, one of the world's most lucrative beer markets.
The owner of Budweiser and Stella Artois beers said on Friday it had reached an agreement with Modelo's controlling families to secure a leading position in a growing domestic beer market and capture best-selling Mexican beer Corona Extra.
Modelo, founded in 1925, is Mexico's biggest brewer with a 50 percent-plus market share in a virtual duopoly with Heineken's FEMSA Cerveza in the world's fourth most-profitable beer market. Corona is the biggest imported beer in the large U.S. market.
AB InBev was attracted to Modelo by a Mexican beer market growing at about 3 percent and cost savings it said would be at least $600 million annually after four years, plus a further one-off $500 million of cashflow gains.
The new expanded AB InBev would produce about 400 million hectoliters (10.6 billion U.S. gallons) of beer a year, 75 percent more than world number two SABMiller, with estimated revenues of $47 billion and 17 billion-dollar brands, with the addition of Corona Extra, Modelo Especial and Victoria.
The Belgium-based brewer said it had added $14 billion of new bank loans to fund the all-cash transaction, adding that it would reduce its net debt/core profit (EBITDA) ratio to 2.0 times during 2014.
Some analysts believe AB InBev could then line up SABMiller as its next acquisition target. Others say that the drinks operations of PepsiCo would make more sense.
In a related but separate transaction, Modelo will sell its 50 percent stake in joint venture Crown Imports to partner Constellation Brands Inc for $1.85 billion. Crown Imports distributes Modelo beers in the U.S. in a deal that runs to the end of 2016.
If AB InBev had wanted to buy out Constellation and distribute the beer itself, it would have pushed its market share in the United States above 50 percent, leading to anti-trust concerns.
However, the deal includes a call option allowing AB InBev to buy all of Crown every 10 years at a fixed multiple.
AB InBev shares were up 3.88 percent, outperforming in sharply firmer European stock markets and against a 1.8 percent gain for the STOXX European food and beverage index.
Modelo shares, which shot up on Monday when talks were announced, were 0.85 percent higher at 118.74 pesos. AB InBev's bid is $9.15, equivalent to about 122.43 pesos now.
HIGH PRICE, BIG SAVINGS
Analysts said AB InBev's bill was high, a 30 percent premium relative to Friday's close and at an enterprise value to core profit (EBITDA) multiple of 15.4 times.
That compares with a multiple of 11 for Heineken's purchase of FEMSA Cerveza and 15 for SABMiller's acquisition of Foster's.
"Modelo is the market leader and FEMSA is not, and Modelo has the leading import brand into the United States," said Societe Generale analyst Andrew Holland, adding that he had expected a multiple of 13 before the deal was announced.
"It was always going to be high, given that Modelo shareholders are under no compulsion to sell. But InBev has a strong track record in integration and cost savings," he said.
The cost savings target was more than many analysts had expected.
Two Modelo board members have committed to invest $1.5 billion of their proceeds in AB InBev shares, to be delivered within five years. The pair, whom one source familiar identified as Valentin Diez and Maria Asuncion Aramburuzabala, will also join AB InBev's board.
Modelo's controlling families, including some of Mexico's wealthiest and descendants of the company's founder, were in no rush to sell. AB Inbev made the first approach on the deal and talks became serious toward the beginning of this year, two sources familiar with the matter said.
AB InBev and Modelo confirmed they were in talks on June 25, following a series of deals by big brewers looking to expand in growing beer markets and find ways to cut costs [nL6E8HP9G6].
In April AB InBev agreed to buy the Dominican Republic's Cerveceria Nacional Dominicana for more than $1.2 billion, while in the same month Molson Coors bought East European brewer StarBev for 2.65 billion euros ($3.3 billion). Last year SABMiller purchased Foster's for $11.8 billion.
AB InBev inherited a 50.4 percent stake in Modelo when InBev bought Anheuser-Busch for $52 billion in 2008. The enlarged group had hoped to mop up the rest of the Mexican brewer, but the controlling Fernandez family launched arbitration proceedings, claiming the deal broke an agreement that Modelo should be consulted over any change in control of the stake.
The arbitration panel ruled in favor of AB InBev in 2010. Since then AB InBev executives have joined the Modelo board and pressure emerged from some family members and other investors to look for a sale.
The deal is set to be completed in the first quarter of 2013 subject to U.S. and Mexican regulatory approval, which AB InBev CEO Carlos Brito said he was confident of securing.
Leuven, Belgium-based AB InBev will apply to list shares on Mexico's stock exchange, Brito said on a call with reporters.
Lazard was the lead adviser to AB InBev while Morgan Stanley advised Modelo.
(Additional reporting by Ben Deighton in Brussels; David Jones in London; Elinor Comlay in Mexico City; Michael Erman and Martinne Geller in New York; Editing by Erica Billingham and Leslie Gevirtz)