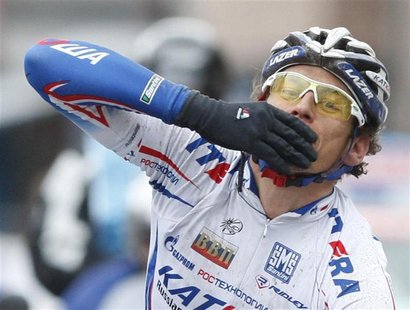 (Reuters) - Top Italian cyclist Filippo Pozzato is set to miss the London Olympics after being charged by the country's anti-doping prosecutor over links to a doctor banned for drug offences.
The Italian Olympic Committee said in a statement on Thursday that its prosecutor had charged the 30-year-old former Italian champion and had asked a tribunal to impose a one-year ban.
Under the rules of the Italian Olympic Committee, any athlete charged with a doping offence cannot compete in a forthcoming Games unless cleared beforehand.
The tribunal is unlikely to make its decision before the London Games start on July 27.
Pozzato, who rides for the Farnese Vini-Selle Italia team, has won two stages on the Tour de France as well as the Tirreno-Adriatico and Milan-San Remo.
Italy has long battled a cycling culture riddled with doping and a high number of top riders have been caught.
(Writing by Mark Meadows; Editing by Tom Bartlett)