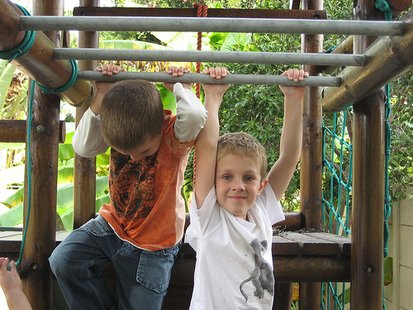 GREEN BAY, WI (WTAQ) - Green Bay will host the 10th annual Kid's Day celebration Monday.
Mayor Jim Schmitt says over 10,000 kids are expected to take part in the festivities. Kid's Day offers over 20 events free of charge for Green Bay children under 17 years of age.
Events include a Bullfrogs baseball game, free rides at Bay Beach, bowling, music, swimming and more.
"The biggest change over time has been more participation from families and I like that," says Schmitt. "The kids come with their parents, I've had some parents say they even take off work that day."
Wristbands are required for free admission to all events and promotions. Wristbands will be available at the following locations:
Bay Beach Amusement Park
Bay Beach Wildlife Sanctuary
Green Bay Parks, Recreation and Forestry Office
City Hall Welcome Center
Brown County Library - Central, East and Southwest Branches
Mayor's Office
Howe Neighborhood Resource Center
Neighborhood Associates
Dental Associates
Colburn, Joannes and Resch Pools
Green Bay City Playgrounds
There are several new events this year for the children of Green Bay to enjoy. The 1st Annual Kids' Day Fun Run/Walk will kick off the celebrations at 9 a.m., as well as the brand new Children's Museum will be offering free child admission from 10 a.m. until 2 p.m. to those who register online via their
website
. You can view a full schedule of events by clicking
here
.