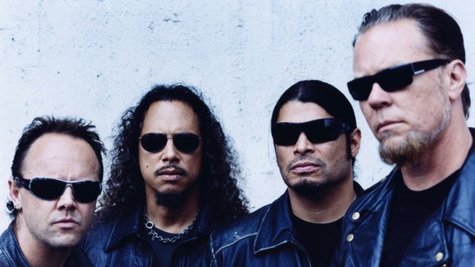 An all-star lineup of rock artists have contributed to a CD paying homage to Deep Purple 's landmark 1972 album, Machine Head. The tribute will be available exclusively as part of a special upcoming "fanpack" issue of the U.K.'s Classic Rock magazine .
Re-Machined: A Tribute to Machine Head will include covers of all of the songs on Machine Head 's by stars such as Metallica , The Flaming Lips , Iron Maiden , Def Leppard 's Joe Elliott , Papa Roach 's Jacoby Shaddix , Chickenfoot , Carlos Santana , ex-Deep Purple bassist Glenn Hughes , guitar virtuoso Steve Vai and former Guns N' Roses members Duff McKagan and Matt Sorum .
The album features two versions each of a pair of Deep Purple's most-revered songs -- "Smoke on the Water" and "Highway Star." Santana and Shaddix deliver one rendition of "Smoke," while the second comes courtesy of The Flaming Lips. "Highway Star" is tackled, respectively, by Chickenfoot and collective of rockers including Hughes, Vai and Red Hot Chili Peppers /Chickenfoot drummer Chad Smith . Also of note is a cover of "Never Before" performed by the supergroup The Kings of Chaos , which features Elliott, Billy Idol guitarist Steve Stevens , McKagan and Sorum.
The magazine portion of the fanpack, which was endorsed by Deep Purple, features interviews with the band's members, as well as many of the artists who contributed to Re-Machined . In addition, the issue offers one of the last interviews with founding Deep Purple keyboardist Jon Lord , who died July 16 at age 71 after a battle with pancreatic cancer. Classic Rock 's Deep Purple fanpack will be released on September 4.
Vai chatted recently with ABC News Radio about his contribution to Re-Machined and his appreciation of Deep Purple's music.
"It just reminded me of how much I loved that music when I was growing up," he said. The guitar whiz added, "If I was gonna be in a rock band, I probably would love to just do like a spin with Deep Purple. That'd be really cool."
Here is the track list for Re-Machined: A Tribute to Machine Head :
Carlos Santana & Jacoby Shaddix, "Smoke on the Water"
Chickenfoot, "Highway Star"
Glenn Hughes, Chad Smith & Luis Maldonado, "Maybe I'm a Leo"
Black Label Society, "Pictures of Home"
Kings of Chaos, "Never Before"
The Flaming Lips, "Smoke on the Water"
Jimmy Barnes & Joe Bonamassa, "Lazy"
Iron Maiden, "Space Truckin'"
Metallica, "When a Blind Man Cries"
Glenn Hughes, Steve Vai, Chad Smith & Lachlan Doley, "Highway Star" (exclusive track)
Copyright 2012 ABC News Radio