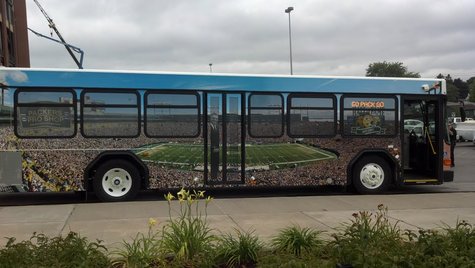 GREEN BAY, WI (WTAQ) - Green Bay Metro is expanding Packers game day routes for the 2012 season.
The four routes will be named the same: Cheesehead, QB Sneak, Lambeau Leap and Quick Slant. But there will now be 73 game day public bus stops along the routes, up from 62 last year.
"We ended up averaging 3,300 rides per game in our first year of public transportation and game day service for the Packers," says Green Bay Metro Transit Director Tom Wittig. "All of our routes are free, people they educate themselves with public transportation and it gives them a great way to use it."
You can find out more details about the routes here.
Also introduced Thursday was a Packers sponsored bus promoting the Lambeau Field experience. Those buses will run city-wide.
"This is a really nice addition to our programs that encourage responsible behavior of our fans on game days," says Packers President and CEO Mark Murphy.
Local officials, including Greater Green Bay Convention and Visitors Bureau President Brad Toll, believe the popularity of these routes help visitors find their way to area shops and restaurants.
"This is a terrific service for visitors," says Toll. "It will provide people an opportunity to come into the game day atmosphere whether you have a ticket or not."