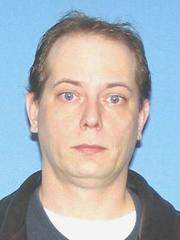 GREEN BAY, WI (WTAQ) - Police in Green Bay have identified the suspect being sought in a double stabbing early Saturday.
Authorities say they're looking for 38-year-old Eric H. Omdahl of Green Bay.
Officers got the call to 2021 Deckner Avenue around 4 a.m. Saturday for a report of a stabbing.
Investigators say two women were stabbed outside of an apartment complex. The victims likely knew their attacker, as all three live in the same apartment complex where the stabbings took place.
Cops say the women, in their early 20s, suffered non-life threatening injuries and were treated at a hospital.
Omdahl is believed to be in a black Monte Carlo with plate 586-MVJ. Police say he may be in the Green Bay area, or heading to Crivitz or Milwaukee.
If you see Omdahl, authorities say do not approach him. Call police right away.