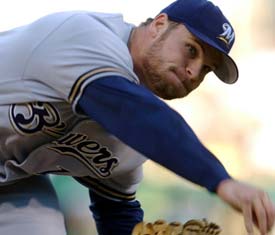 NEW YORK (WTAQ) - Former Brewers' All-Star Ben Sheets will start his first Major League game in two years on Sunday.
The Atlanta Braves signed the veteran right-hander on July 1st. And Braves' manager Fredi Gonzalez says Sheets will start the final game of a series against the New York Mets at Turner Field.
Sheets made a pair of starts for AA Mississippi this month, and he went 0-1 with an ERA of just over 5.
He'll be 34 on Wednesday. Sheets pitched for 8 seasons in Milwaukee, with four All-Star appearances.
He took 2009 off after having Tommy John elbow surgery. In 2010, Sheets went 4-9 in 20 starts for Oakland with a 4.53 ERA.
For his career, Sheets is 90-92 with a 3.79 ERA.