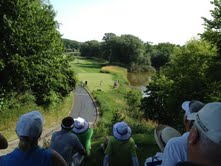 KOHLER, WI (WTAQ) - The winner was not the only one to take a bow during Sunday's trophy presentation at the U.S. Women's Open in Kohler.
Herbert Kohler – who has brought championship golf to Wisconsin 5 times in the last 14 years – was praised by players, fans, and the United States Golf Association for the way the Open turned out at Blackwolf Run.
Na Yeon Choi of South Korea, who won the tournament by 4 strokes, said she loved the course – and she'd love to play Kohler's other courses as well.
The USGA did not release attendance figures, but Kohler said he was happy with the crowds all week considering the massive heat wave that did not let up until this past weekend. He said he trouble getting through the crowd during Sunday's final round.
After the trophy ceremony, Kohler said he'd like the Women's Open to become a mainstay at Blackwolf Run.
Jim Richerson, the director of golf for the Kohler Company, said negotiations continue with the both the USGA and the PGA about holding tournaments well into the future.
Whistling Straits has already secured the 2015 PGA Championship and the 2020 Ryder Cup. Kohler has also hosted the PGA in both 2004 and 2010, the 2007 U.S. Senior Open, and the 1998 Women's Open.