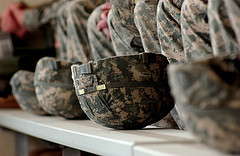 APPLETON, WI (WTAQ)- The 395th Ordnance Company is back in the United States and is expected to return to the Fox Cities later this week.
More than 100 members of the unit finished a deployment to Afghanistan. They are now at Fort Hood, Texas. Details on the return to Appleton are still being worked out, but it should happen later this week, according to Sgt. First Class John Keen. A homecoming celebration is planned for the unit headquarters on Ballard Road.
The unit departed Appleton last July. One member, Garrick Eppinger Jr., died during the deployment.