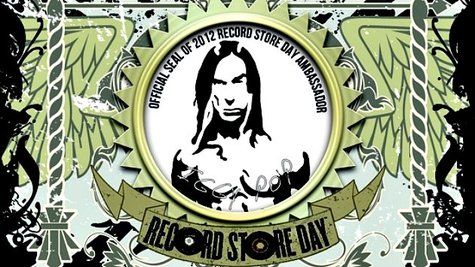 Record Store Day is April 21, and The Stooges frontman Iggy Pop has been named the event's ambassador for 2012. The singer posted a message on the Record Store Day website , explaining -- in his own special way -- that he's excited about the prestigious honor. "As Record Store Day Ambassador for 2012 I feel like a representative from some exotic jungle full of life and death and sex and anger, called upon to wear a leopard skin and translate joy to the world of the dead," writes Iggy.
Iggy added that his local record store played an important part in his musical career when he was growing up. "I got my name, my musical education and my personality all from working at a record store during my tender years," writes Iggy. "Small indie shops have always been a mix of theater and laboratory. In the 50's and 60's the teen kids used to gather after school at these places to listen free to the latest singles and see if they liked the beat. You could buy the disc you liked for 79 cents and if you were lucky meet a chick."
Previous Record Store Day Ambassadors include Ozzy Osbourne , Eagles of Death Metal frontman Jesse Hughes , and Queens of the Stone Age frontman Josh Homme .
Copyright 2012 ABC News Radio