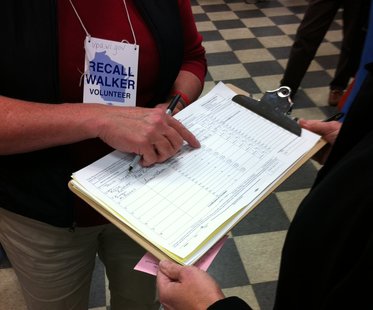 MADISON, Wis. (WSAU) – A state appeals court has overturned a judge's ruling that blocked recall organizers from joining a lawsuit challenging how recall petitions should be verified.
The Fourth District Court of Appeals in Madison ruled that recall committees had a valid interest to join the lawsuit that Governor Walker's campaign filed against the Government Accountability Board in Waukesha County.
Friday's appeals court ruling also tossed Waukesha County Judge Mac Davis' January 5th decision that the GAB must actively strike fake or duplicate signatures from recall petitions.
Davis had previously ruled that the committees could not join the suit.
The appeals court ruling's won't take effect until after a process known as remittitur, which is when the appeals court sends its decision and the record back to the circuit court.
The latest ruling, however, is likely to be appealed.
The governor's campaign had sued the GAB, claiming it acted unconstitutionally in December when it decided it would not automatically strike such signatures.
Organizers submitted more than 1.9 million signatures in mid-January, demanding that the state schedule recall elections against Walker, Lieutenant Governor Rebecca Kleefisch and four Republican state senators.