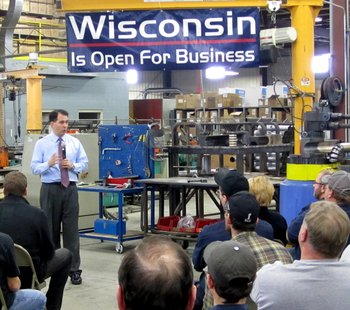 WESTON, Wis. (WSAU) – Governor Walker is standing by his pledge that employers will create 250,000 jobs during his first four years in office.
The Republican Walker compared the job creation goal to winning the Super Bowl.
"It's not going to happen at once but I think we've laid the foundation, we've laid the groundwork for us to head in the right direction," Walker said in promoting his "Wisconsin Working" job creation agenda during a visit Wednesday to J & D Tube Benders in Weston.
The agenda includes efforts like doubling the number of job fairs in the state this year and hiring more state employees to help those getting jobless benefits look for work.
Walker spoke as committees in the Assembly and Senate passed a bill that creates a voluntary occupational training program for residents on jobless benefits. The program, which is modeled after similar training programs in Georgia and New Hampshire, provides 20 to 24 hours a week of unpaid on-the-job training for up to six weeks.
Walker also repeated a familiar message that the structural reforms Republican lawmakers put in place last year will help give employers the certainty they need to hire more workers. The reforms included limiting collective bargaining rights for most public union employees.
"If you know that the state government and your local governments have their act together, have their finances in order, it makes a lot easier to say...I'm willing to take that risk and invest in a little more capital that's gonna put people to work here," Walker said.