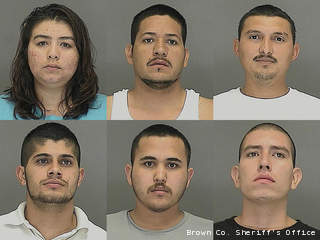 GREEN BAY, WI (WTAQ) - Six people made their first court appearances Thursday in connection with a large-scale marijuana growing operation in Oconto County.
The six, identified as Maria Blanca Garcia, Miguel Sanchez-Garcia, Pedro Infante-Ramirez, Guillermo Chavez-Carrion, Jose Alfredo Sierra-Aguilar and Juan Carlos Cervantes Contreras, are beind held in jail without bond.
Authorities said Thursday they found around 8,385 marijuana plants along the Oconto River, in the Chequamegon-Nicolet National Forest. They also took 125 to 150 pounds of processed marijuana.
In court, authorities said all of the suspects are in the country illegally except for Maria Blanca Garcia. Blanca Garcia was the only suspect who didn't need a translator during the detainment hearings.
Her attorney says Blanca Garcia is differently positioned than the others in that she is a legal, permanent resident with a clean record and relatives in the U.S. Prosecutors argued Blanca Garcia was, by all indications, involved in supervising and organizing the grow activity, and is therefore, more culpable.
Ultimately the judge decided all six, who face a minimum of 10 years in prison, must stay behind bars to ensure future court appearances. Prosecutors declined to speak with the media after court. But one of the defense attorneys did comment.
"It's kind of early to figure out what our position is, but it looks like a typical marijuana grow case," Tom Erickson told FOX 11. Erickson, who represents Cervantes Contreras, added there's one issue that's often swept aside in these cases. "Our country has an insatiable need for marijuana. They're here because we want them to be here, there's a portion of our country, and our public that wants marijuana," said Erickson.
While six people appeared in court, authorities have said they arrested seven people in connection with the grow. A 7th person has been charged in the case, however, information about that suspect was blacked out in the criminal complaint.
Authorities tell FOX 11 he is in custody in Idaho, but they will not release the man's name until he appears in court in Wisconsin.
The group is scheduled to be back in court September 6th.