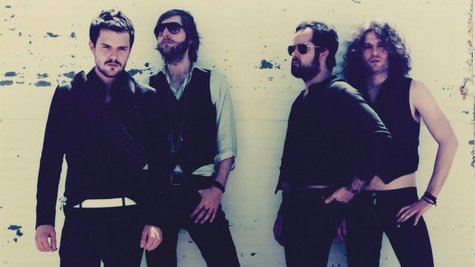 The Killers will be the next artist to participate in the American Express-sponsored concert series Unstaged on September 18, the same day that their new album, Battle Born , arrives in stores.
The performance will be live-streamed from the Paradise Theater in the Bronx at 7 p.m. ET/4 p.m. PT at YouTube.com/TheKillersVEVO . If you want to check it out, you can join the audience online, or via YouTube and VEVO apps for iPhone, iPod touch, iPad and Android.
Directing the event will be German film director Werner Herzog , who was nominated for an Oscar in 2009 for his documentary film about Antarctica, Encounters at the End of the World . Bassist Mark Stoermer says that the director has some unique stunts planned for the broadcast.
"He has ideas for someone crowd-surfing with a camera on," Stoermer tells Rolling Stone . "He's gonna put cameras on [drummer] Ronnie [ Vannucci ] while he's playing drums. I think there's gonna be an animal involved [as well]. I'm sure it will be all done the right way."
Copyright 2012 ABC News Radio