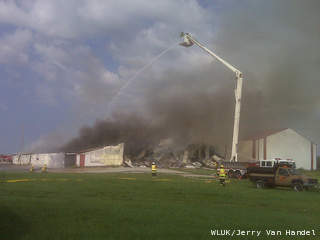 ONEIDA, WI (WTAQ) - Authorities say a barn fire in the Town of Oneida Wednesday morning burned hundreds of bales of hay and straw.
The blaze broke out at a shed owned by James Van Camp Hay Sales. Crews say there were about 1,500 bales of hay and straw inside.
There was also a small amount of materials for an asphalt company.
By noon, the fire was under control, with crews working on containing hay that was still smoldering.
No one was hurt in the fire.