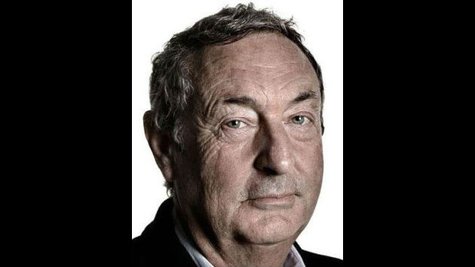 Quite a few Pink Floyd fans took to the Internet to express their annoyance upon finding out that some devotees of young British pop sensation Ed Sheeran mistook his rendition of Floyd's "Wish You Were Here" at the 2012 Olympics' Closing Ceremony for a new tune by Sheeran. Now Floyd drummer Nick Mason , who played with Sheeran at the London extravaganza, has spoken out in defense of the 21-year-old singer/songwriter and his faithful followers.
Mason has sent an email to Sheeran complimenting him and thanking him for "a great performance."
In the message, which Sheeran posted on his official Facebook page , Mason writes, "Following a bit of post show stuff with some of the [Pink Floyd] fans getting outraged at people not realizing the song was not your new release, I just wanted to go on record to suggest they chill on this."
He continues, "As far as I'm concerned, what you did was a really great version of the song, and it's one of the nicest tributes to have any artist choose to play another's work, particularly an artist [who's] a great song writer in his own right."
The drummer then points out that he enjoys quite a few cover versions of other artists' songs, mentioning as examples Jimi Hendrix 's rendition of Bob Dylan 's "All Along the Watchtower" and Joe Cocker 's take on The Beatles ' "With a Little Help from My Friends."
He finishes by writing, "Sooner or later people will work out the origin of the song, and who knows, maybe check out our catalogue, just as hopefully our fans might check out yours. Music doesn't have to be entirely partisan -- Or if it does, no one bothered to tell me..."
Sheeran, in turn, also complimented Mason, saying, "[It] was an honor it was to play that song with Nick, he is a legend and a gentleman."
Copyright 2012 ABC News Radio