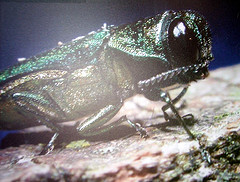 PERROT PARK, WI (WTAQ) - The emerald ash borer has been found in a new part of western Wisconsin.
State agriculture officials said today that a single-adult beetle was captured in a trap at Perrot State Park in Trempealeau County.
It's directly across the Mississippi River from an infestation near Winona, Minnesota. It's north of a large infestation along the river in La Crosse, Vernon, and Crawford counties.
Perrot Park is run by the state DNR – and that agency plans to identify other areas of the park that will require monitoring for the tree-killing ash borer.
Trempealeau is the 13th Wisconsin county where the emerald ash borer has been found. Officials say the county will soon join the others in a quarantine.
It means that ash trees and nursery stock cannot be moved from Trempealeau County unless they're certified as being free of the bug.
The ash borer was first discovered a decade ago in the eastern U.S. It's blamed for killing millions of ash trees in the eastern U.S. and Canada.