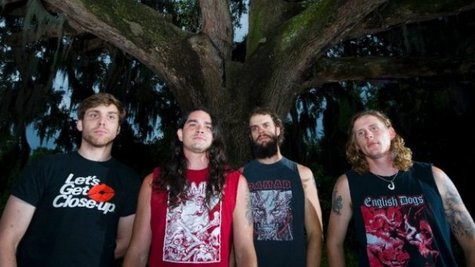 Baroness ' tour bus was involved in an accident Wednesday morning in the U.K. According to BBC News , the bus "fell 30 feet from a viaduct near Bath" with two of the nine people on board suffering multiple fractures.
Both of the fracture victims, who have yet to be named, were freed from the wreck by firefighters and are receiving medical treatment at Frenchay Hospital in Bristol. The other seven people on the bus were sent to the Royal United Hospital in Bath for treatment.
"Police are investigating the circumstances of the accident," Inspector Nick Hunt from the Avon and Somerset Police tells BBC News. "At this stage it is too early to tell what the cause was."
The band has posted a message on their Facebook page addressing the accident: " Baroness were in a serious bus accident last night near Bath, England. The band members and crew are recovering at local hospitals. All tour dates are postponed until further notice. "
Baroness ' most recent album, Yellow & Green , was released last month.
Copyright 2012 ABC News Radio