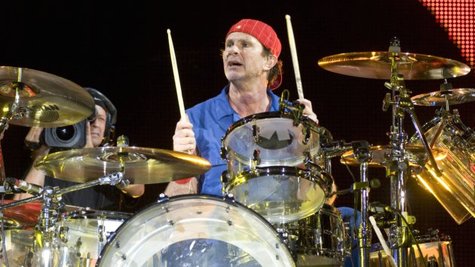 This week, fans of the Red Hot Chili Peppers will get their hands on two of 18 previously unreleased songs on seven-inch vinyl from the recording sessions from their latest album, I'm With You . Drummer Chad Smith says he felt it was important for the band to release the extra tracks now, before they get forgotten about in their archives.
"Lots of times you record more music that goes on the record and then those songs never see the light of day and they're in some archive somewhere collecting dust," Smith tells ABC News Radio. "But we want people to hear these songs and so we're gonna just put them out and it's really for the fans."
Smith added that the band decided not to release a double-album -- including the extra tracks from the I'm With You sessions -- because all the songs didn't fit in with the overall theme of the album. "We just felt that those thirteen songs went together very well as a piece of art, a piece of music and sometimes you can overload people with too much musical information," explains the drummer. "Our last record [ Stadium Arcadium ] was a double record, it was 28 songs, and so we just wanted to be more concise this time around."
The first release from the I'm With You sessions, set to hit stores on Friday, features new tracks "Strange Man" and "Long Progression." The second pair of songs for release will be "Magpies" and "Victorian Machinery" on September 11. The third installment, scheduled to hit stores on October 2, will feature "Never Is a Long Time" and "Love of Your Life." The rest of the tracks, which will be selected in the coming weeks, will be released in November, December and in early 2013.
In addition to being released on vinyl, digital versions of the new tracks will also be available at the usual online providers.
Copyright 2012 ABC News Radio