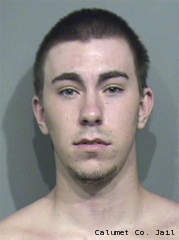 CHILTON, WI (WTAQ) - The suspect in the stabbing of an elderly man at a Darboy park says voices told him to do it.
On Thursday, 18-year-old Devon C. Helmrath was formally charged with attempted first-degree intentional homicide for the July 5 incident at Darboy Community Park in the Town of Harrison.
According to documents, Helmrath told investigators voices told him to hurt someone. He walked into the woods and saw a 73-year-old man. Helmrath said voices told him the man was someone he could hurt.
The victim said the stabber asked him to help find a cell phone, and then stabbed him in the back. The victim was able to make it to a relative's house and call police. Helmrath told police he stabbed the man with a kitchen knife.
The next week, investigators released a sketch of the suspect. Helmrath says he shaved his head when he saw the sketch on the news.
He was arrested Wednesday at his home on Roeland Avenue in Appleton.
Helmrath is also charged with possession of THC, the active chemical in marijuana. A $250,000 bond was set for Helmrath. He's due back in court Tuesday.