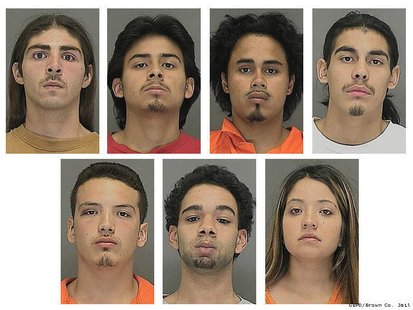 GREEN BAY, WI (WTAQ) - Green Bay police say six men, and one woman have been arrested for their involvement in the shooting death of Jeremy Teller.
Police made five arrests Wednesday night at a home in the town of Oneida. Police were searching for two other men as of Thursday afternoon, but both men are now in custody.
Lt. Andy Lewis says the group of suspects got into a car to confront a man who had gotten into a fist fight with one of the suspects, 20-year-old Bradley Tower from Green Bay, in the afternoon. They thought the man was at the house party at 1127 Smith Street.
As the men and woman got out of the car just after 11 p.m. Tuesday night they ran into 15-year-old Jeremy Teller and his friend.
Lewis wouldn't get into the details of what happened, but 18-year-old Julio Gonzalez from Oneida admitted to pulling out a .38 caliber handgun and firing two shots at Teller and his friend.
One hit Teller in the back, the other missed his friend.
Lewis says Teller or his friend had any involvement with the fight earlier in the day. "Jeremy Teller was in the wron place at the wrong time" Lewis said.
Through their investigation, police were led to a home on Fish Creek Lane in Oneida.
Five people were taken into custody; 20-year-old Bradley Tower from Green Bay, 21-year-old Ceclia Holguin, 25-year-old Miguel Garcia from Oneida, 17-year-old Samuel Godinez from Chicago. Police are recommending charges of Party to a Crime First Degree Intentional Homicide, party to a Crime Attempted First Degree Homicide.
Police are recommending charges of First Degree Intentional Homicide, and Party to a Crime Attempted First Degree Intentional homicide for Gonzalez.Police say two other suspects who were in the car are now in custody. Issac Robbs,23, turned himself in to officers and Terill Gutierez, 19, was apprehended by the Oneida Police Department without incident