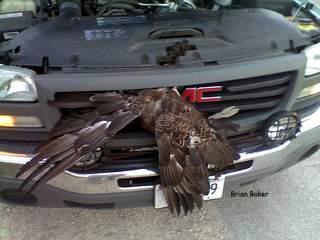 GREEN BAY, WI (WTAQ) - Damaged, beaten and bleeding after being hit by a pick-up truck, an American bald eagle is once again in back in the wild.
The eagle was hit last month near Fremont along Highway 10 after swooping in for some road kill. The male eagle got his head wedged in the grill of the truck, and its five foot span wings were sprawled across the front.
The owner of the truck Brian Baker then opened the hood of his truck.
"The beak of the bird was almost to the fan belt, had it been a little closer to the fan belt would have probably twisted the head right off" said Owner and volunteer Pat Fisher with The Feather bird rehabilitation center in New London.
Baker called the DNR, who called in a vet and Fisher.
The bird was x-rayed and found to only have a concussion and few broken feather and a little blood.
"When you think about it a month is nothing , absolutely nothing for that type of injury. When you have a bird in here with a broken wing that will be for two to three months, a broken leg even longer" Fisher said.
Fisher took the eagle back to her backyard center. It took a few weeks of feeding it small rodents and animals before it was flying and getting restless.
"With head trauma, usually you'll know if they're going to make it, within two weeks you're going to know, or it's usually dead within two weeks" Fisher said.
Fisher says by the end of the third week, she released it back into the wild near the site of where it was hit.