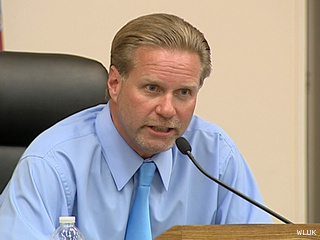 SHEBOYGAN, WI (WTAQ) - The Sheboygan City Council is moving forward with the process of removing Mayor Bob Ryan from office for his recent public drinking displays.
The aldermen voted Monday night to hire Sheboygan attorney Joseph Voelkner as a special counsel and adviser during the removal process.
The council also voted to have former U.S. Attorney Steve Biskupic review two citizen complaints against the first-term mayor. Biskupic, who's serving for free, will recommend whether the council should hold a quasi-judicial trial which would eventually decide if Ryan gets removed.
Also, the mayor will keep his present duties for now. The council delayed the hiring of an administrator to handle the city's day-to-day functions – and a committee will create the person's job description.
Ryan urged the council to drop the removal process, saying he has apologized for his actions and it's time to put it behind the city.
Last week, the mayor's attorney – Dwight Darrow – said Ryan's alcoholism is a disability which would protect his job under the Americans with Disabilities Act.
If a removal proceeding is held, Darrow brought up the possibility of questioning Sheboygan council members about their own drinking, and conduct with members of the opposite sex.