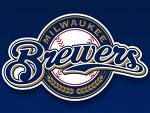 MILWAUKEE (WTAQ) - Albert Pujols homered, hit three doubles, and drove in five runs to lead the Cardinals to a 12-3 win over the Milwaukee Brewers in Game Two of the National League Championship Series.
The win evens the series at one game apiece.
Pujols hit a two-run homer in the 1st inning to give the Cardinals an early lead, then followed that with 3 doubles in a row. He didn't make an out until the 8th inning.
St. Louis built a 5-0 lead before the Brewers scored on a 2-run homer by Rickie Weeks. St. Louis responded with two more in the 5th, to build the lead to 7-2.
Milwaukee threatened in the 5th, but a double-play on a blown call by the first-base umpire ended the rally without any runs crossing the plate.
A 4-run rally in the seventh inning put the game away for St. Louis. The Cardinals banged out 17 hits on the night.
Cardinals reliever Lance Lynn picked up the win, and Shawn Marcum took the loss for MIilwaukee.
The series now returns to St. Louis, where the Cardinals' Chris Carpenter will square off against Milwaukee's Yovani Gallardo Wednesday night. You can catch all the action live on 97.5/1360 News Talk WTAQ.