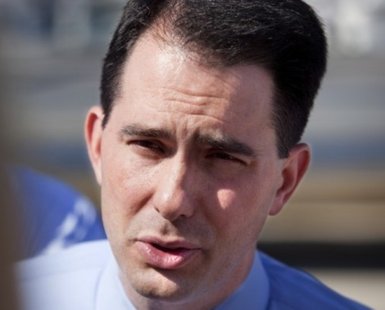 MADISON (WSAU) Wisconsinites are paying more than twice as much as they did two years ago to protect the governor, his family, and the lieutenant governor. The Milwaukee Journal Sentinel said it cost over $611,000 to provide security for Republican Governor Scott Walker's family and Lieutenant Governor Rebecca Kleefisch from their election last November through August.
In 2009, it only cost $260,000 to protect former Governor Jim Doyle in a similar 10-month period.
Today's polarized politics have played a role, as Walker sees protestors almost everywhere he goes. State Patrol Captain David Erwin says the threats against Walker have reached a new level and are quote, "not comparable to past administrations." Also, Walker shares time between Madison and his home in Wauwatosa where he still has teenage sons in high school. It cost less to protect Doyle's family because his children were grown, and they sold their Madison home and lived in the Governor's Mansion full time.
Erwin would not be specific about the threats against Walker, saying it would put him at a bigger risk.
This week, a person on Facebook wrote that it might be better to kill Walker than to go through the process of recalling him. Katherine Windels of Cross Plains is scheduled to go on trial in January on criminal charges of sending threats to Walker and G-O-P lawmakers as they considered the virtual ending of public union bargaining. And Patrick Knauf of Eau Claire is now under a deferred prosecution agreement, after he was charged with making a bomb threat at place where Walker had appeared in April.