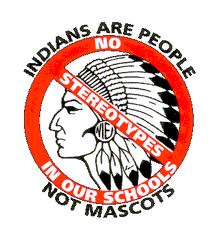 UNDATED (WSAU) A bill to repeal the state's process for getting public schools to drop their Indian team names is locked up in an Assembly committee. And its chairman says it's not going anywhere. Whitewater Republican Steve Nass proposed the bill soon after the G-O-P took control of the Legislature in January.
But Green Bay Republican Karl Van Roy, who chairs the Assembly State Affairs Committee, says he won't hold a hearing on it -- and he'll try to have the repeal killed there. Van Roy's district is near the Oneida Indian Reservation, and he joined the former Democratic majority in passing the crackdown on Indian team names last year. It allows people to complain to the Department of Public Instruction about specific team names -- and the D-P-I holds a hearing and decides whether to make the targeted school board drop the monikers.
Last week a Waukesha County judge issued a final order that overturned the state's decision to make Mukwonago drop its nickname the Indians. The judge agreed that a D-P-I official showed too much bias against the team name. Mukwonago school officials said they had nothing to do with the legal effort -- and residents acted on their own.
Also last week five residents of the Berlin School District filed suit to keep their team name, the Indians. They, too, alleged bias in the state's process.