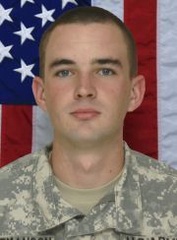 APPLETON, Wis. (WTAQ) - An Appleton man has been killed in the line of duty in Afghanistan.
The Department of Defense confirms 22-year-old Sgt. Matthew Hermanson died from enemy small-arms fire Thursday in Wardek province.
Hermanson was based out of Fort Polk in Louisiana and was a 2006 graduate of Appleton North High School.
"It was pretty devastating," Don Younger, Hermanson's father-in-law, told FOX 11.
Younger heard the news with his daughter when two service members came to his Lake Geneva home.
"When they said it, I'm standing there and there really wasn't any emotion on me or Rachel and she looked at me and said, 'what' and they repeated it," said Younger. "It didn't register with me either or her."
As the service members shared more, it started to sink in.
"My daughter and son-in-law had only been married a short time," said Younger. "It would be a year May 8th and he was killed ten days prior to that."
Younger says Hermanson and his daughter had plans to start a family. Hermanson was an outdoorsman, enjoying hunting and fishing with family up north.
Hermanson left for Afghanistan in November. It was his second tour of duty, having already served 14 months in Iraq.
"He kind of moved up in the ranks so he did well that way," Younger told FOX 11. "Overall I think just a nice young man, who had a lot of potential, cared for people, cared for his wife a great deal."
In a statement, Governor Scott Walker said: "Our hearts go out to the family and friends of Sergeant Hermanson, especially to his wife and parents. We're enormously grateful for his service. His family is in our prayers during this time of grief."