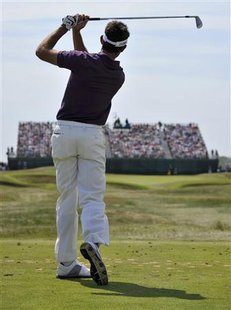 By Martyn Herman
SANDWICH, England (Reuters) - U.S. Masters champion Charl Schwartzel got a lucky break off a spectator's head on his way to a three-under-par second round 67 that put him firmly in contention at the British Open on Friday.
After driving into sand at the par-five 14th and then chipping out, his three-wood was heading for serious trouble in the rough when it cannoned off an unfortunate fan and found a decent lie in another bunker.
The 26-year-old South African went on to make his par and set the lowest score of the early starters.
"I've been in so many bunkers," said Schwartzel. "But this one was a good break. I hit my three-wood a bit left and it caught someone on the head and ran into the bunker.
"But it was a good break. Sometimes you're going to need those sort of things to happen to go your way. I felt sorry for the guy but it's one of those things."
Schwartzel, who snatched the Masters green jacket with a run of four birdies in the last four holes, has fared badly at the British Open down the years, missing the cut in four of his six previous attempts.
OOSTHUIZEN WIN
Last year though he was 14th as close friend and compatriot Louis Oosthuizen stormed to the title.
Friday's warm conditions and fast fairways were much to Schwartzel's liking and even he was surprised at how far the ball was traveling on the sandy links layout.
"It was playing like a parkland course," he said. "You don't sort of have to bounce it up. But when we turned for the back nine it started getting windy and it got tough.
"It was going so far, was hitting like 380-yard drives and you were ending up in bunkers that didn't seem possible. The wind has got to be blowing for you to be hitting it that far."
With two tidy scores in the bag, Schwartzal said he was looking forward to watching the rest of the round unfold on Friday with stronger winds and bouncy fairways expected to make it tough to attack the course.
"I had a good score out there but you're not going to just walk all over this course. I would have thought someone may be a bit lower but out there right now it's tough," he said.
"It's getting dusty, really firm and bouncy."
Despite the conditions aggravating his hay fever he was hoping for more of the same on Saturday although he said the forecast was worrying.
"I've seen it and I don't want to think about it!" he joked.
(Editing by Tony Jimenez)