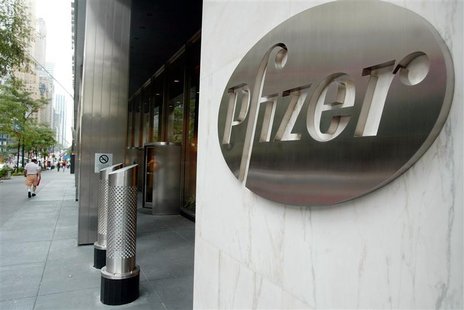 WASHINGTON (Reuters) - Slower tumor growth in kidney cancer patients taking Pfizer Inc's drug Inlyta in trial was driven by a small subset of patients who are likely rare in the United States, Food and Drug Administration researchers said.
In review documents released on Monday, FDA staff found Inlyta having a safety profile similar to other drugs in its class. But they expressed concerns that progression of the disease was better in the patients previously treated by cytokines, which are rarely taken in the United States, than a more common medicine sunitinib.
Pfizer markets sunitinib under the brand Sutent.
Inlyta, clinically known as axitinib, is one of Pfizer's most important experimental medicines. An oral drug, Inlyta inhibits certain receptors that can influence tumor growth and progression of cancer.
Pfizer shares rose almost 1 percent to $20.08 in morning trading on the New York Stock Exchange.
(Reporting by Alina Selyukh in Washington)