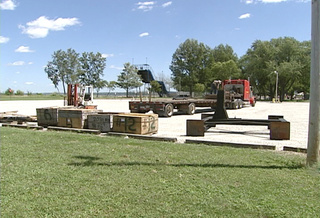 GREEN BAY, Wis. (WTAQ) - Crews begin preparing the site where the Zippin Pippin roller coaster will someday stand at Bay Beach in Green Bay.
An official groundbreaking ceremony is set for next Wednesday.
Earlier this year, the city purchased the rights to the ride. It comes from an amusement park in Memphis, Tennessee, and the ride is said to once be a favorite of Elvis Presley.
The project has a $3 million price tag, most of which is going towards buying new materials for the roller coaster and construction. The Zippin Pippin is expected to be running by May 2011.