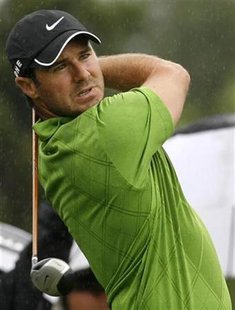 NEW YORK (Reuters) - Former U.S. Masters champion Trevor Immelman has high hopes for an injury-free 2010 after having surgery on his troublesome left wrist this week.
The South African was limited to just 13 events on the 2009 PGA Tour and was forced to pull out of three of the four majors because of the injury.
Immelman had surgery in New York on Thursday and expects to be fit for the start of next year's Tour once he has completed an extensive rehabilitation and training schedule over the next three months.
"This past season was a frustrating one as I dealt with this recurring injury," Immelman, 29, said in a statement released by his manager on Friday.
"After attempting all other treatment options and consulting with Dr (Andrew) Weiland, surgery was the right option.
"The timing was very important to me as I want to put this season behind me and be ready for 2010. I look forward to a healthy and productive season next year."
Immelman, who clinched his only major title at the 2008 Masters, is a double winner on the U.S. circuit. He has also triumphed four times on the European Tour.
(Writing by Mark Lamport-Stokes in Los Angeles, editing by Tony Jimenez)