Donald Driver Charity Softball Game 2013
Donald Driver is bringing his charity softball game back to Fox Cities Stadium on Sunday, June 16, 2013 sponsored by Kwik Trip. It will be another classic match-up of Packers Offense vs. Packers Defense.
Check back after the game for exclusive pictures and videos.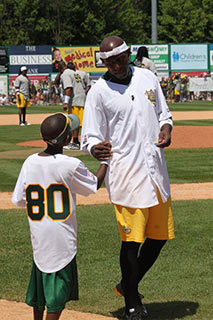 Game Day Schedule
Parking lot opens at 9:00 am
Stadium gates open at 10:00 am
Sponsor game at 11:00 am
Home run derby at noon
First Pitch - 1:05 pm
Ticket Breakout
Premium box seat - $50
Box seat - $34
Reserved bleacher - $23
General admission (including standing behind the temporary outfield fence) - $12
All-You-Can-Eat Bar Top seating - $80
How to Get Tickets
Over the phone at 800-WI-TIMBER or (920)733-4152
In person at the Time Warner Cable Field Box Office
Online at www.timberrattlers.com
The stadium box office is open from 9am until 5pm Monday through Friday.
Donald Driver Charity Softball Pics 2012 »