SEX OR MONEY: WHAT MAKES YOU HAPPIER?.... (GETTING NEITHER?)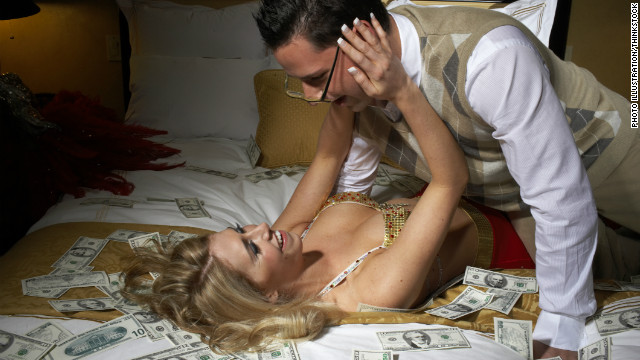 A study found that money brings you more sexual partners, but it doesn't necessarily buy more sex.
According to a 2007 survey by a research firm specializing in global private wealth, about 70% of multimillionaires with a net worth of $90 million said they enjoy better and more adventurous sex.
63% of rich men said wealth gave them "better sex", which they defined as having more-frequent sex with more partners.
88% of women said more money gave them better sex. They defined it as "higher quality' sex".
It makes sense: money relieves a lot of the life stresses that most people have to deal with.
Hooking up with the rich could even improve the quality of sex, at least for women. In one study, researchers found that as male partners' income increased, so did the frequency of women's orgasms.
But a partner who can provide more resources and more orgasms might not necessarily be the best long-term bet, because wealth changes people, and not always for the better. Wealthier people engage in more dishonest and unethical behavior and those traits follow them into the bedroom. In fact, power and wealth are linked to a higher likelihood of infidelity.
And while money buys more sexual partners, it doesn't necessarily buy more sex. In fact, men who paid for sex were a lot less happy than those who didn't.
The researchers found that sex is so closely tied to happiness that they estimated increasing sexual intercourse from once a month to once a week would have the same mood-boosting effects as adding $50,000 a year in income.
So what's the best advice?: Invest in your relationship by giving it the same time and attention that you would your retirement portfolio. Make time for date nights. Make sure that the number of positive interactions with your partner outnumbers the negatives.
Practice 30-second hugs to get those feel-good chemicals flowing. Share a cuddle and maybe a fantasy or two.
You might not own six homes and a private jet, but when you invest in your relationship, you can feel just as rich.