Yesterday on the 93Rock

Facebook

page, I asked:

'Who's your favorite hair band?'

I knew it was going it to happen - someone said Guns N' Roses. I love

GNR

, but I don't think they're a

hair

band. To me, they marked the beginning of the end of

that scene.

They were harder and grittier than anything else at the time.
*Before we go any further, let's establish the difference between 'Hard Rock' and 'Hair Metal.' Hair metal is a sub-genre of Hard Rock/Heavy Metal. It's more about

how the band looks

. Think make up, big hair, and feminine clothing. The sound is catchy and 'poppier' too.

A

hair

band is a hard rock band, since

it

is a sub-genre of hard rock. But, a band can be hard rock without being

a hair band

.*
I think GNR is just Hard Rock.
Granted this happened:
Teased hair is a sign of hair metal, but teased hair alone isn't enough to make a band a hair band, is it? Guns N' Roses definitely rocked the

girly

clothes and looked like a

hair/glam

band in the very beginning, but it didn't last.

Yikes. Glad that ended.
I'd argue they're a hard rock band who happened to come on the scene during the 2nd wave of hair metal, which is also often referred to as

glam

rock. They just sometimes get lumped into that category, because of their timing. Their music is grittier than Poison. To me, Poison is the ultimate

glam/hair

band.
Also just an interesting note: Jason Hillery & I were talking about whether or not

GNR

is a

glam

/hair band, when he mentioned Motley

Crue

. He thinks Motley is just hard rock. I think they're

a hair/glam band

.
It's toned down now at shows. Here's a photo 93Rock took of Vince Neil from Rock USA 2012. He's wearing cheetah print pants, but he's much calmer than in the photo above.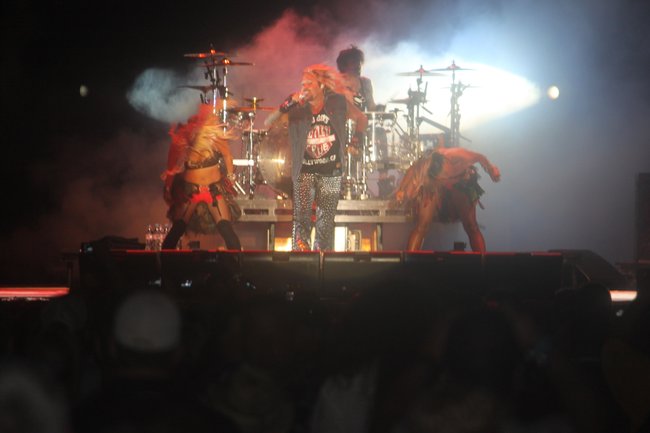 I wanted to get YOUR opinion on this:
Should

GNR

be considered

a Hair Band

?
You can toss in your opinion on Motley too.
*Ultimately, it's all about cranking up the stereo and rocking out. I just think it's fun to find all the true music fans out there and talk about things like this. Thanks for your input! ROCK ON!